News
Concert for George Photography Book Captures Iconic Images
A new limited edition book tells George Harrison's story from The Beatles to the Concert for George.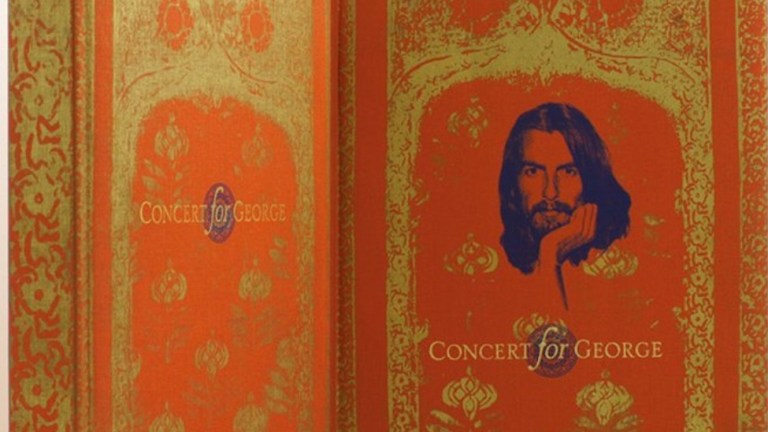 Concerts are merely performances. One night stands, usually on a string of one night stands. But sometimes a single moment from a show can capture an excitement larger than the evening. And when that night is already a big night, every image bristles with residue. Photos from The Beatles Shea Stadium concert capture flashes of the pinnacle of Beatlemania. George Harrison created one of those nights with his A Concert for Bangladesh, bringing together the best rock had to offer on one stage at one time to bring a little relief to a sad situation. A Concert for George brought together all the guitarist's friends on stage at The Royal Albert Hall to celebrate his life with joy. A new limited edition Concert for George book from Genesis Publication presents the images.
The Concert for George united rock stars, classical musicians and comedians to commemorate the first anniversary of Harrison's death.
"We celebrated the life and music of the beautiful 'quiet' one from Liverpool who became a man of many words as well as worlds, a wise, coveted friend, father and true seeker," Olivia Harrison said in a statement. "He did all this, and much more, and still managed to have more fun that the rest of us."
"One side of George was an amazingly soulful, peaceful man seeking karma and all that; the next minute he'd want to get behind the wheel of the most powerful vehicle in the country, driving at 193 miles-an-hour," Monty Python's Michael Palin agrees in the book.
"There was a lot of laughing in the band and George was the ringleader of the whole thing," remembers the late Tom Petty in the book, recalling Traveling Wilbury sessions. "We called him the 'idea man.' I miss him you know, I miss him in the night a lot."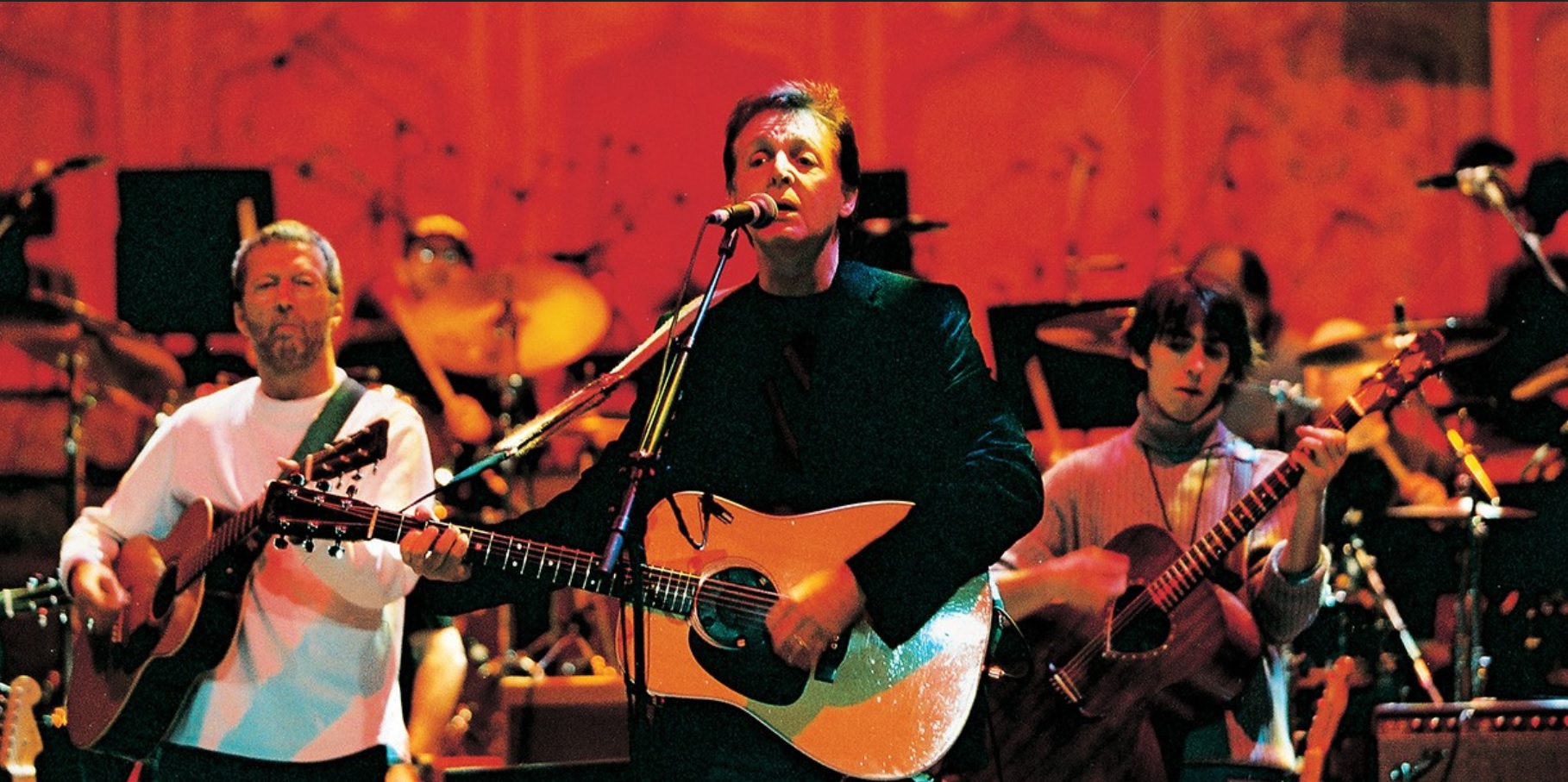 This limited edition Concert for George book "takes you backstage at one of the most legendary concerts in music history, with a VIP pass, unseen photographs and text from those who attended. Photographers Jill Furmanovsky and Richard Young shot the concert. Behind-the-scenes photographs were taken by from Oliver Hecks, Nick Roylance and Brian Roylance.
Concert for George is edited by Olivia Harrison, who signed the copies. Royalties are donated to The Material World Charitable Foundation.
It features an introduction by Paul Theroux and original text from Tanmoy Bose, Gary Brooker, Joe Brown, Sam Brown, Mike Campbell, Jim Capaldi, Eric Clapton, Ray Cooper, Lee Dickson, Claire Ferguson, Terry Gilliam, Tom Hanks, Dhani Harrison, Olivia Harrison, Jools Holland, Eric Idle, Jon Kamen, Jim Keltner, Katie Kissoon, Albert Lee, David Leland, Andy Fairweather Low, Jeff Lynne, George Martin,Tessa Niles, Michael Palin, Tom Petty, Billy Preston, Emil Richards, Alan Rogan, Brian Roylance, Anoushka Shankar, Ravi Shankar, Ringo Starr, Paul Theroux, and Klaus Voormann.
The book tells Harrison's story "from his early days right through to the tribute concert that celebrated his life, told by the people that love him," according to the book's web site. "Photographs of the historic 2002 concert are interwoven with archival images from throughout George's life, the majority of which are previously unpublished."
The book is limited to 2,500 copies worldwide. Each of the 308 pages in Concert for George is master printed in at least 4 colors. Concertgoers that night were given a 28-page commemorative booklet, bound in a beautiful embossed cover and fastened with an orange silk ribbon. One of these original booklets is included within the folding solander box that houses the limited edition book. There are also four facsimile laminated back-stage passes in the pocket.