News
Billionaire Island to Skewer the Rich
Billionaires deserve to be satirized more than anyone else in the universe, and that's exactly what Billionaire Island will do.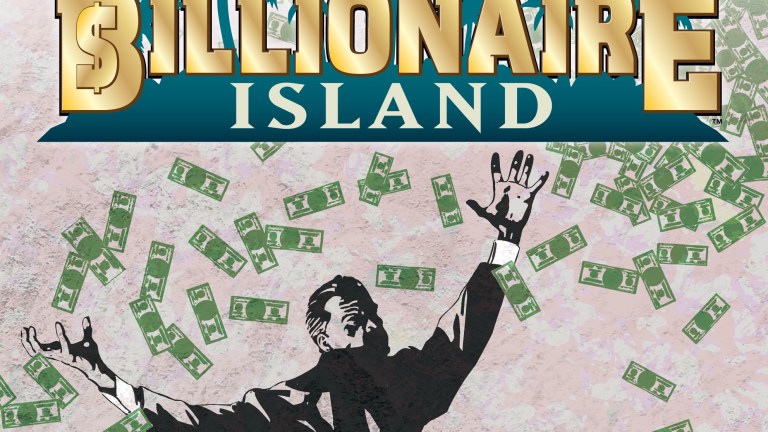 In a world where rich people think having money means you're a genius, you get things like doomed, lawless, vanity campaigns for president, a strip-mined media landscape, and vampires. Fortunately, you also get the sharpest comedic team in recent comic book memory teed up to absolutely brutalize these dudes in a new series coming from Ahoy Comics.
Billionaire Island is a new series from Mark Russell and Steve Pugh, the pair who created the most unbelievably funny comic in years in The Flintstones. "Billionaire Island tells the story of Freedom Unlimited (FU Island), a private island created and populated by billionaires hoping to wait out the end of the world," said Russell. "But because they are in international waters and not subject to any law, their haven is a nightmarish police state for anyone on the island who crosses them. In a broader sense, it's a series that asks the question: how do we save the world when all its resources are partying offshore?" Though news reports indicate otherwise, this story is entirely fictitious, like Bioshock only treated as ridiculous as it plainly is.
Pugh's most recent work was on Harley Quinn: Breaking Glass, a YA-ish DC graphic novel that let him stretch his dramatic legs while still doing the comedy he's so good at. Russell has been revitalizing Wonder Twins and dipping his toes in more serious superhero fare with the terrific Year of the Villain: Riddler story at DC and a great Lone Ranger book at Dynamite, while also putting out one of the most thoughtful and funny ruminations on Christianity with Second Coming at Ahoy. Billionaire Island is slated for six issues.
Ahoy is settling into a nice niche putting out entertaining humor and satire books, and they announced two more series with Billionaire Island: Ash & Thorn, from Mariah McCourt (True Blood) and Soo Lee (Charlie's Angels vs. The Bionic Woman); and Penultiman by Tom Peyer (Hourman) and Alan Robinson (Planet of the Nerds). Ash & Thorn follows Lottie Thorn and Lady Peruvia Ashlington-Voss, the little old ladies who are also the anointed savior of the world and her sidekick, respectively, staring down an apocalypse destined to wipe out humanity. "Even the Universe makes mistakes sometimes," said McCourt. "And sometimes the mistakes are big ones. Like when it taps an 80+ year old retired art teacher to be the Champion who fights the next Apocalypse." The series will also feature covers from the great Jill Thompson (Wonder Woman: True Amazon).
Penultiman features the great hero, Penultiman, the next-to-last stage in human evolution, who is depressed because in the far future in which he lives, the last stage in human evolution bullies him for being a knuckle-dragging remnant of a violent, stupid age gone by. His sidekick, Antepenultiman, works with him to understand his angst. Not gonna lie, Antepenultiman is a strong contender for my favorite bit from a comic announcement this year.
For more on Billionaire Island, Ash & Thorn, Penultiman, Antepenultiman, or their almost certain villain Preantepenultiman, stick with Den of Geek!