Features
Best New Horror Books in December 2018
Looking for a good horror read? Here are some of the best new horror books to be released in December 2018.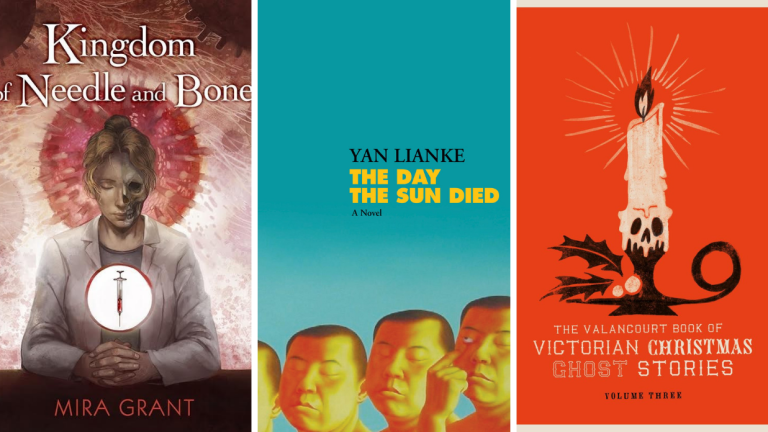 There's never a bad time of year to read a creepy classic, and that includes the winter holiday season! Here are some of the horror books coming out in December that we are most looking forward to checking out here at Den of Geek…
Have you joined the Den of Geek Book Club? You should!
Best New Horror Books in December 2018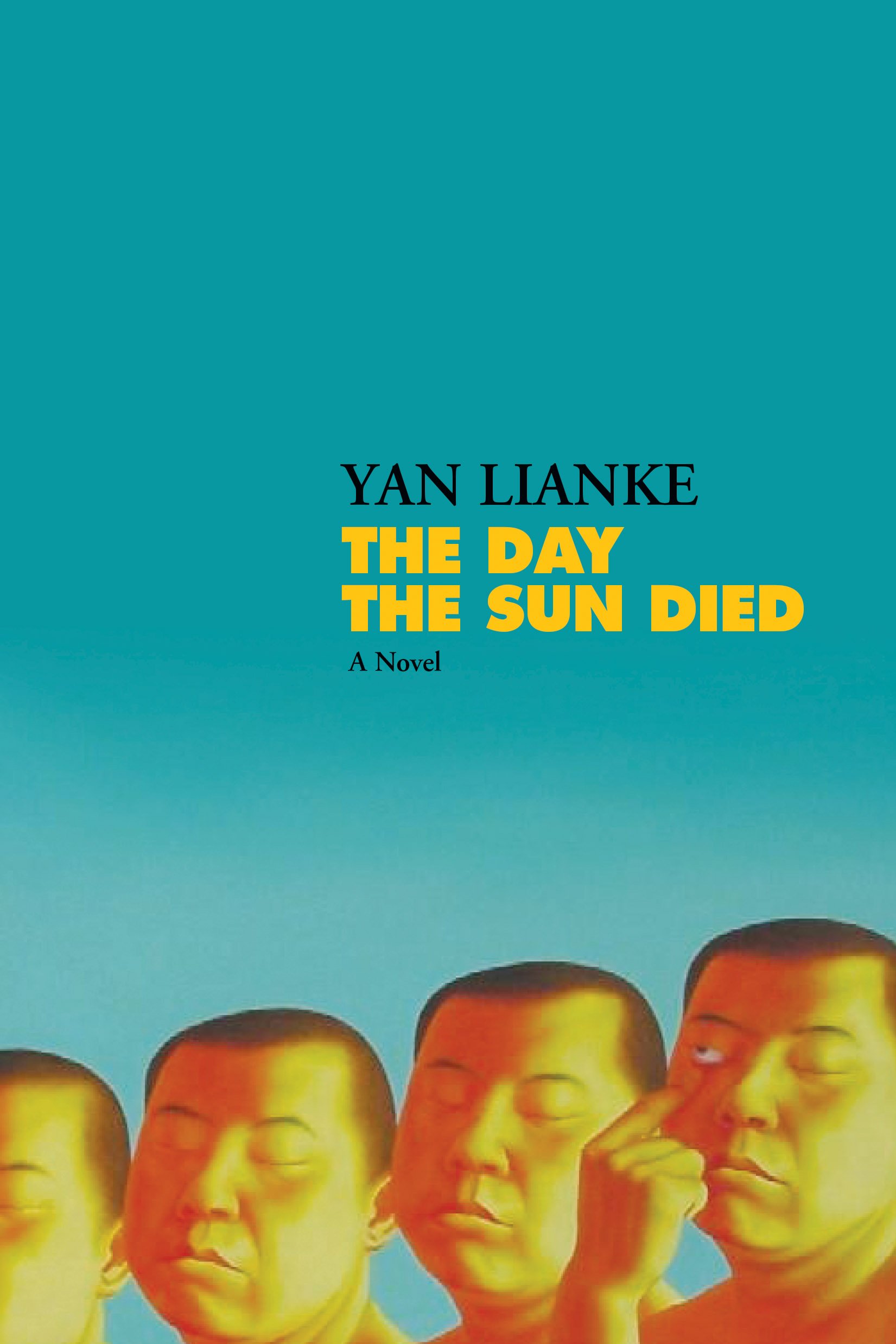 The Day the Sun Died by Yan Lianke (Translated by Carlos Rojas)
Type: Standalone novelPublisher: Grove PressRelease date: December 11th
Yan Lianke has secured his place as contemporary China's most essential and daring novelist, "with his superlative gifts for storytelling and penetrating eye for truth" (New York Times Book Review). His newest novel, The Day the Sun Died―winner of the Dream of the Red Chamber Award, one of the most prestigious honors for Chinese-language novels―is a haunting story of a town caught in a waking nightmare. 

In a little village nestled in the Balou mountains, fourteen-year-old Li Niannian and his parents run a funeral parlor. One evening, he notices a strange occurrence. Instead of preparing for bed, more and more neighbors appear in the streets and fields, carrying on with their daily business as if the sun hadn't already set. Li Niannian watches, mystified. As hundreds of residents are found dreamwalking, they act out the desires they've suppressed during waking hours. Before long, the community devolves into chaos, and it's up to Li Niannian and his parents to save the town before sunrise. 

Set over the course of one increasingly bizarre night, The Day the Sun Died is a propulsive, darkly sinister tale from a world-class writer.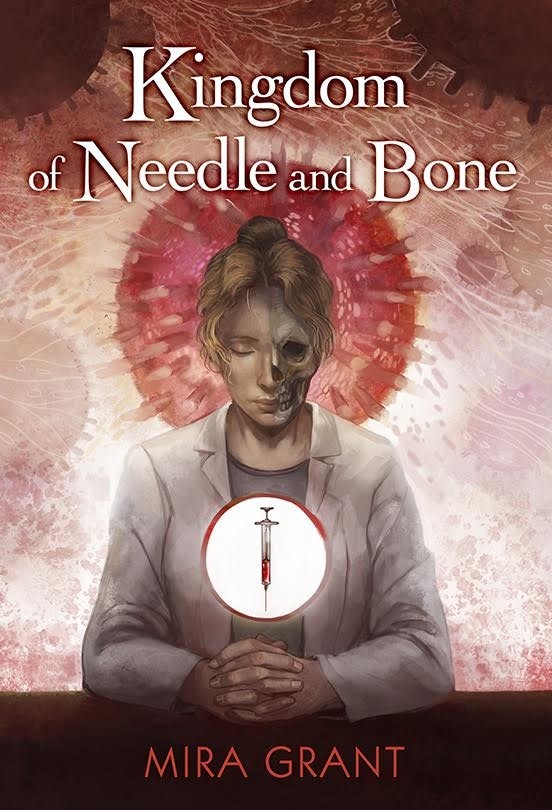 Kingdom of Needle and Bone by Mira Grant
Type: Standalone novelPublisher: SubterraneanRelease date: December 31st
We live in an age of wonders. Modern medicine has conquered or contained many of the diseases that used to carry children away before their time, reducing mortality and improving health. Vaccination and treatment are widely available, not held in reserve for the chosen few. There are still monsters left to fight, but the old ones, the simple ones, trouble us no more. Or so we thought. For with the reduction in danger comes the erosion of memory, as pandemics fade from memory into story into fairy tale. Those old diseases can't have been so bad, people say, or we wouldn't be here to talk about them. They don't matter. They're never coming back. How wrong we could be. It begins with a fever. By the time the spots appear, it's too late: Morris's disease is loose on the world, and the bodies of the dead begin to pile high in the streets. When its terrible side consequences for the survivors become clear, something must be done, or the dying will never stop. For Dr. Isabella Gauley, whose niece was the first confirmed victim, the route forward is neither clear nor strictly ethical, but it may be the only way to save a world already in crisis. It may be the only way to atone for her part in everything that s happened. She will never be forgiven, not by herself, and not by anyone else. But she can, perhaps, do the right thing. We live in an age of monsters.
Best New Horror Books in November 2018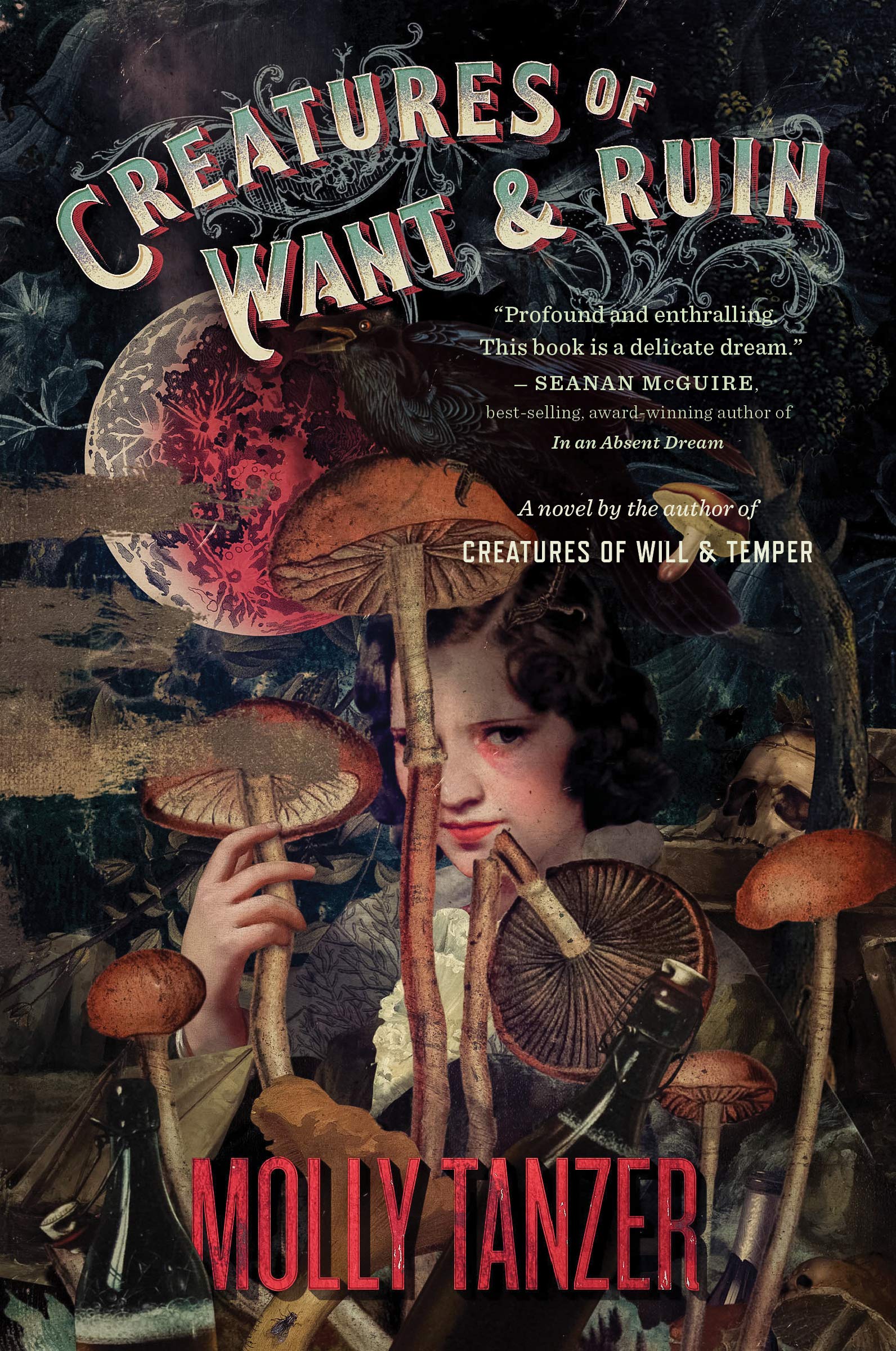 Creatures of Want and Ruin by Molly Tanzer
Type: Standalone novelPublisher: MarinerRelease date: November 13th
Amityville baywoman Ellie West fishes by day and bootlegs moonshine by night. It's dangerous work under Prohibition—independent operators like her are despised by federal agents and mobsters alike—but Ellie's brother was accepted to college and Ellie's desperate to see him go. So desperate that when wealthy strangers ask her to procure libations for an extravagant party Ellie sells them everything she has, including some booze she acquired under unusual circumstances.   What Ellie doesn't know is that this booze is special. Distilled from foul mushrooms by a cult of diabolists, those who drink it see terrible things—like the destruction of Long Island in fire and flood. The cult is masquerading as a church promising salvation through temperance and a return to "the good old days," so it's hard for Ellie to take a stand against them, especially when her father joins, but Ellie loves Long Island, and she loves her family, and she'll do whatever it takes to ensure neither is torn apart.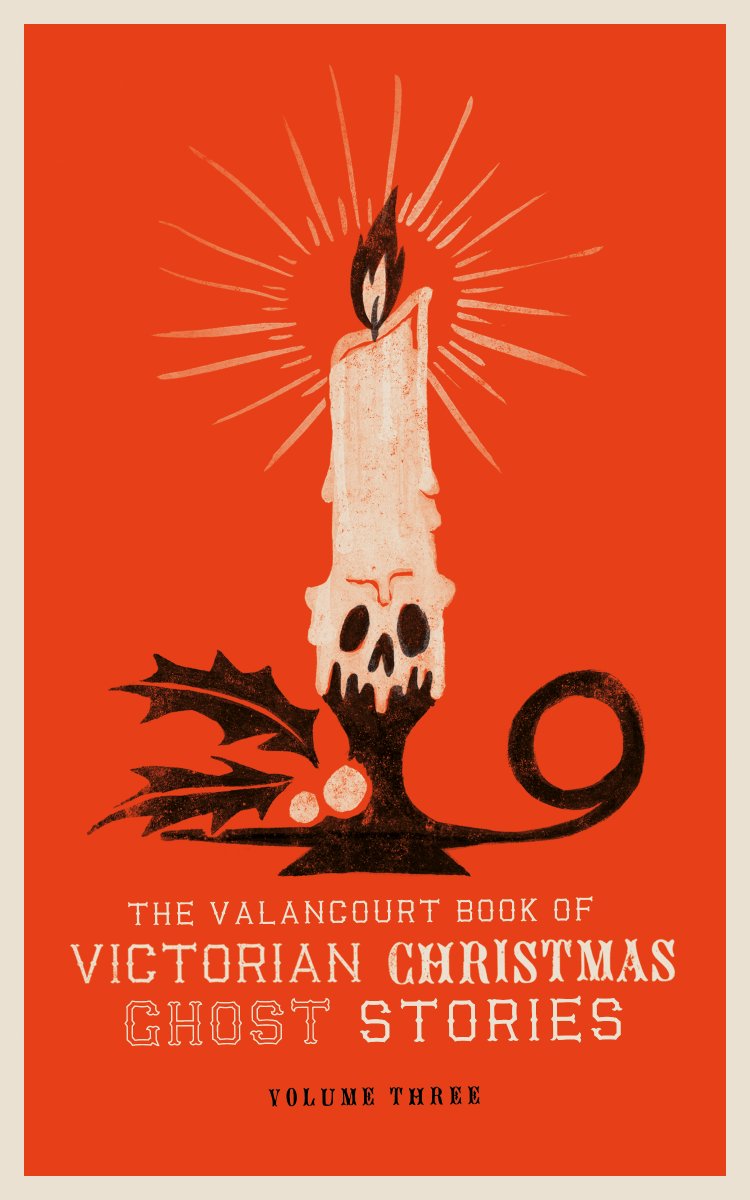 The Valancourt Book of Victorian Christmas Ghost Stories, Volume Three
Type: Collection of storiesPublisher: Valancourt BooksRelease date: November 20th
A new collection of twenty ghostly tales of Yuletide terror, collected from rare Victorian periodicals

Seeking to capitalize on the success of Charles Dickens's A Christmas Carol (1843), Victorian newspapers and magazines frequently featured ghost stories at Christmas time, and reading them by candlelight or the fireside became an annual tradition, a tradition Valancourt Books is pleased to continue with our series of Victorian Christmas ghost stories. This third volume contains twenty tales, most of them never before reprinted. They represent a mix of the diverse styles and themes common to Victorian ghost fiction and include works by once-popular authors like Ellen Wood and Charlotte Riddell as well as contributions from anonymous or wholly forgotten writers. This volume also features a new introduction by Prof. Simon Stern.

"Before me, with the sickly light from the lantern shining right down upon it, was—a cloven hoof! Then the awfulness of the compact I had made came to my mind with terrible force …" – Frederick Manley, "The Ghost of the Cross-Roads"

"By the fireplace there was a large hideous pool of blood soaking into the carpet, and leaving ghastly stains around. I am not ashamed to confess that my brain reeled; the mysterious horror overcame me …" – Lillie Harris, "19, Great Hanover Street"

"A fearful white face comes to me; a horrible mask, with features drawn as in agony—ghastly, pale, hideous! Death or approaching death, violent death, written in every line. Every feature distorted. Eyes starting from the head. Thin lips moving and working—lips that are cursing, although I hear no sound." – Hugh Conway, "A Dead Man's Face"

Read The Valancourt Book of Victorian Christmas Ghost Stories, Volume Three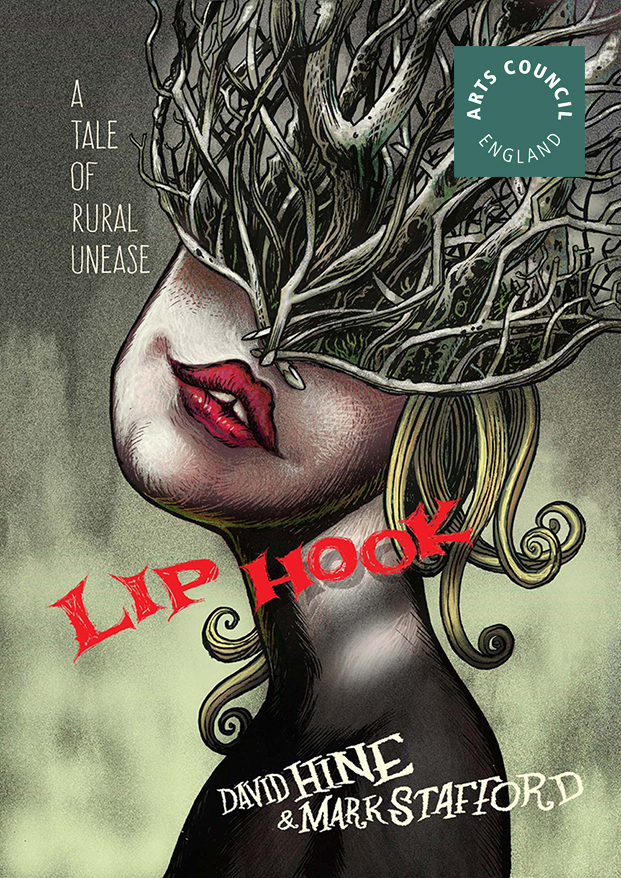 Lip Hook: A Tale of Rural Unease by David Hine & Mark Stafford
Type: Graphic NovelPublisher: SelfMadeHeroRelease date: November 27th
Somewhere in the British Isles, at the end of a neglected road, there is a village called Lip Hook. For its inhabitants, the village is more than the end of the road—it's the end of the world. Beyond it, there is nothing but mist-shrouded marshland. Few travelers take the road to Lip Hook, but one foggy night, a car speeds perilously toward the village. The driver is a dangerously beautiful woman, the passenger a man with a gunshot wound and a suitcase containing a treasure he has risked his life for. Cash-strapped but in need of a place to hide, the two fugitives seek shelter at the Hanged Man Inn, where the woman persuades the innkeeper to accept payment in kind. As days pass and the woman extends her services to more of Lip Hook's men, among them the village priest, a false faith grips the community—and reason, logic, and humanity begin to disappear.

Read Lip Hook: A Tale of Rural Unease by David Hine & Mark Stafford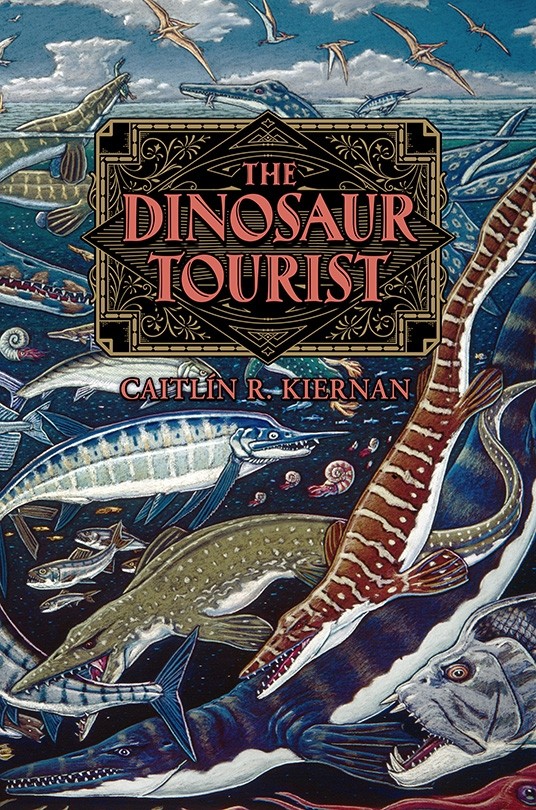 The Dinosaur Tourist by Caitlin R. Kiernan
Collection of short fictionPublisher: Subterranean PressRelease date: November 30th
Almost nothing is only what it seems to be at first glance. Appearances can be deceiving and first impressions often lead us disastrously astray. If we're not careful, assumption and expectation can betray us all the way to madness and death and damnation. In The Dinosaur Tourist, Caitlín R. Kiernan's fifteenth collection of short fiction, nineteen tales of the unexpected and the uncanny explore that treacherous gulf between what we suppose the world to be and what might actually be waiting out beyond the edges of our day-to-day experience. A mirror may be a window into another time. A cat may be our salvation. Your lover may be a fabulous being. And a hitchhiker may turn out to be anyone at all.
Best New Horror Books in October 2018
Blood Communion by Anne Rice
Type: Part of the Vampire Chronicles seriesPublisher: KnopfRelease date: October 2nd
The Vampire Chronicles continue with a riveting, rich saga–part adventure, part suspense–of Prince Lestat and the story of the Blood Communion as he tells the tale of his coming to rule the vampire world and the eternal struggle to find belonging, a place in the universe for the undead, and how, against his will, he must battle the menacing, seemingly unstoppable force determined to thwart his vision and destroy the entire vampire netherworld.

In this spellbinding novel, Lestat, rebel outlaw, addresses the tribe of vampires, directly, intimately, passionately, and tells the mesmerizing story of the formation of the Blood Communion and how he became Prince of the vampire world, the true ruler of this vast realm, and how his vision for all the Children of the Universe to thrive as one, came to be.

The tale spills from Lestat's heart, as he speaks first of his new existence as reigning monarch–and then of his fierce battle of wits and words with the mysterious Rhoshamandes, proud Child of the Millennia, reviled outcast for his senseless slaughter of the legendary ancient vampire Maharet, avowed enemy of Queen Akasha; Rhoshamandes, a demon spirit who refuses to live in harmony at the Court of Prince Lestat and threatens all that Lestat has dreamt of.

As the tale unfolds, Lestat takes us from the towers and battlements of his ancestral castle in the snow-covered mountains of France to the verdant wilds of lush Louisiana with its lingering fragrances of magnolias and night jasmine; from the far reaches of the Pacific's untouched islands to the 18th-century city of St. Petersburg and the court of the Empress Catherine…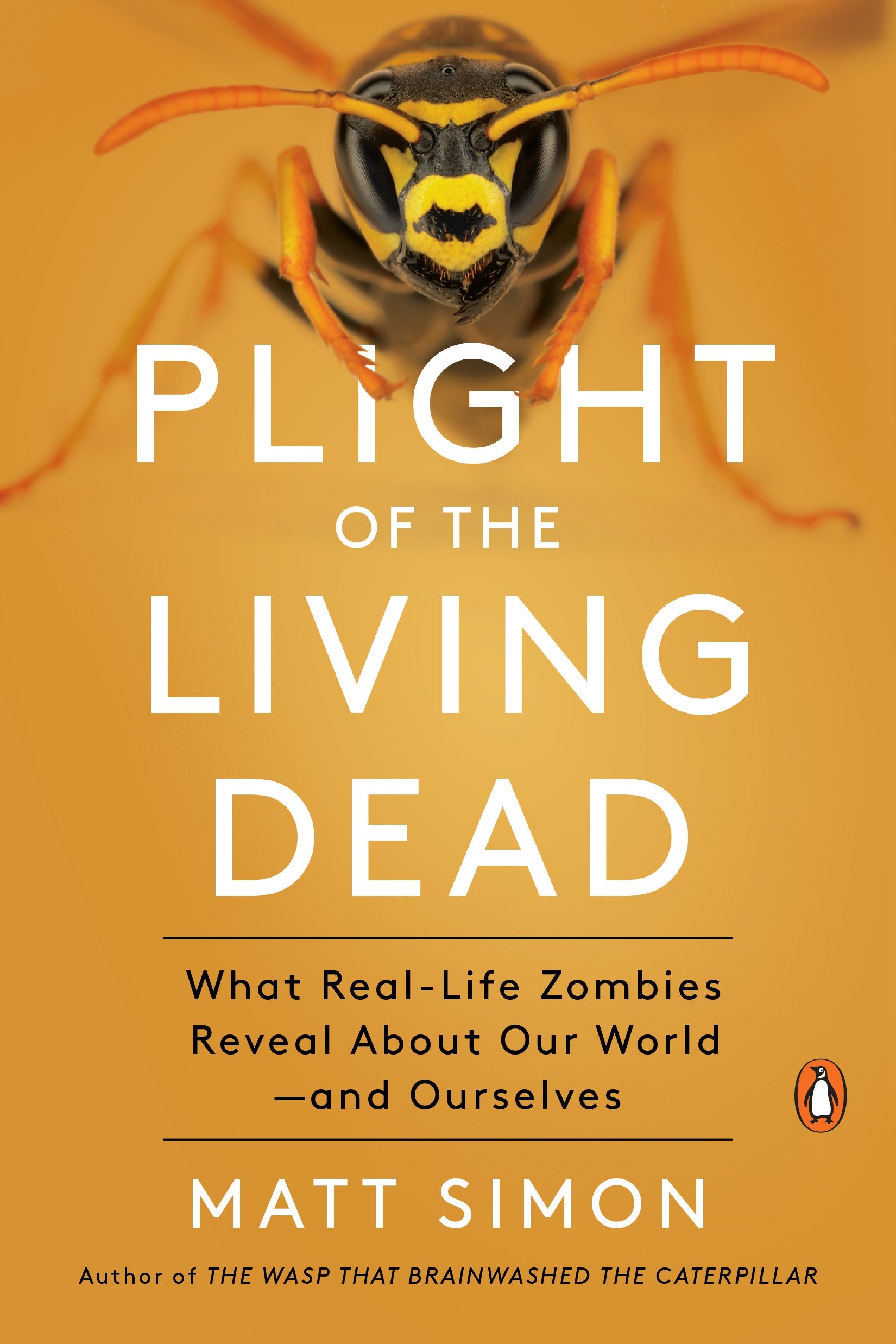 Plight of the Living Dead: What Real-Life Zombies Reveal About Our World—And Ourselves
Type: Standalone non-fictionPublisher: PenguinRelease date: October 2nd
A brain-bending exploration of real-life zombies and mind controllers, and what they reveal to us about nature—and ourselves.

Zombieism isn't just the stuff of movies and TV shows like The Walking Dead. It's real, and it's happening in the world around us, from wasps and worms to dogs and moose—and even humans.

In Plight of the Living Dead, science journalist Matt Simon documents his journey through the bizarre evolutionary history of mind control. Along the way, he visits a lab where scientists infect ants with zombifying fungi, joins the search for kamikaze crickets in the hills of New Mexico, and travels to Israel to meet the wasp that stings cockroaches in the brain before leading them to their doom.

Nothing Hollywood dreams up can match the brilliant, horrific zombies that natural selection has produced time and time again. Plight of the Living Dead is a surreal dive into a world that would be totally unbelievable if very smart scientists didn't happen to be proving it's real, and most troublingly—or maybe intriguingly—of all: how even we humans are affected.
Dracul by Dacre Stoker and JD Barker
Type: Prequel to DraculaPublisher: G.P. Putnam's SonsRelease date: October 2nd
The prequel to Dracula, inspired by notes and texts left behind by the author of the classic novel, Dracul is a supernatural thriller that reveals not only Dracula's true origins but Bram Stoker's—and the tale of the enigmatic woman who connects them.

It is 1868, and a twenty-one-year-old Bram Stoker waits in a desolate tower to face an indescribable evil. Armed only with crucifixes, holy water, and a rifle, he prays to survive a single night, the longest of his life. Desperate to record what he has witnessed, Bram scribbles down the events that led him here…

A sickly child, Bram spent his early days bedridden in his parents' Dublin home, tended to by his caretaker, a young woman named Ellen Crone. When a string of strange deaths occur in a nearby town, Bram and his sister Matilda detect a pattern of bizarre behavior by Ellen—a mystery that deepens chillingly until Ellen vanishes suddenly from their lives. Years later, Matilda returns from studying in Paris to tell Bram the news that she has seen Ellen—and that the nightmare they've thought long ended is only beginning.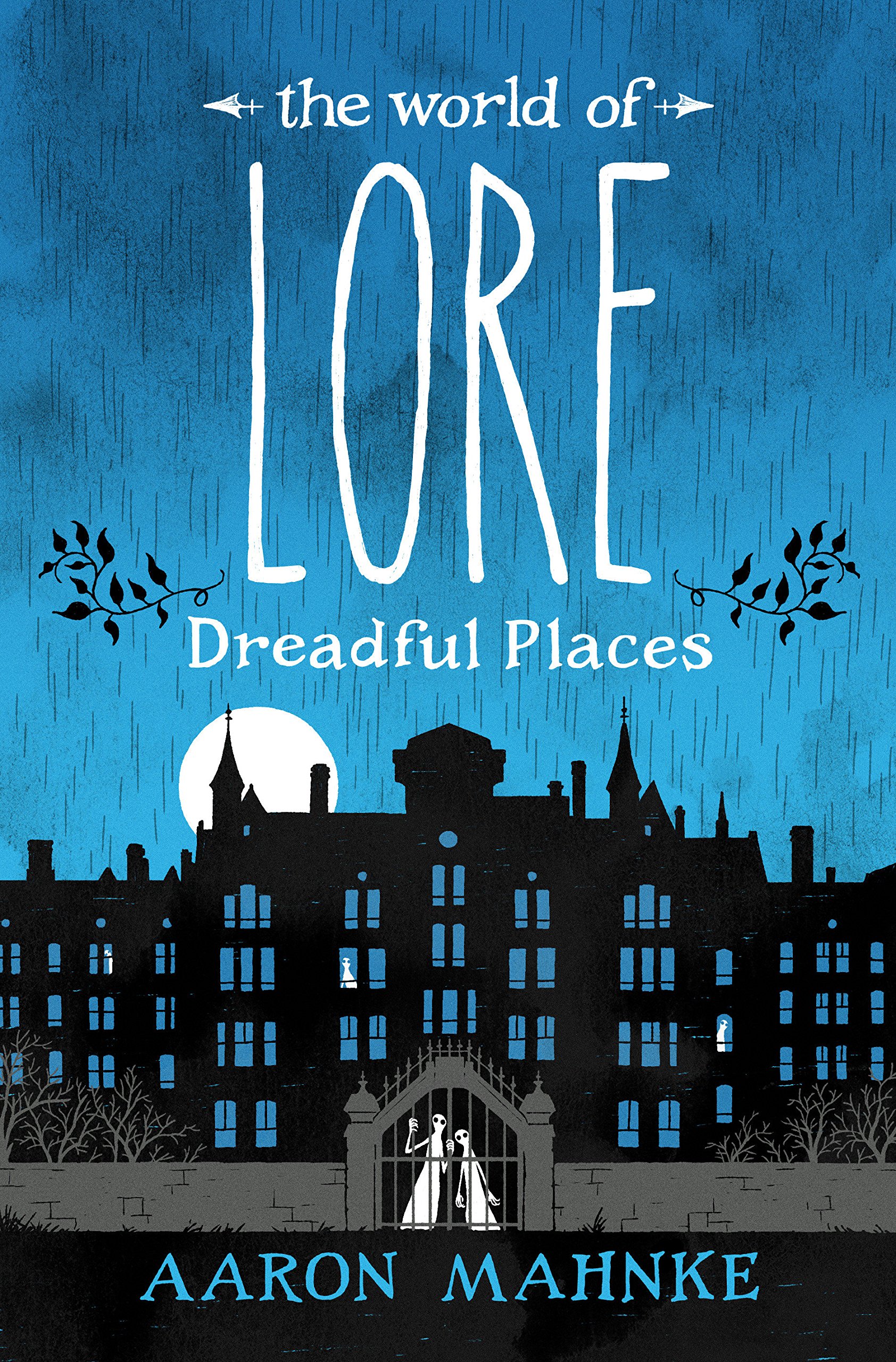 The World of Lore: Dreadful Places by Aaron Mahnke
Type: Standalone non-fictionPublisher: Del ReyRelease date: October 9th
Captivating stories of the places where human evil has left a nefarious mark, featuring stories from the podcast Lore—now a streaming television series—including "Echoes," "Withering Heights," and "Behind Closed Doors" as well as rare material.  Sometimes you walk into a room, a building, or even a town, and you feel it. Something seems off—an atmosphere that leaves you oddly unsettled, with a sense of lingering darkness. Join Aaron Mahnke, the host of the popular podcast Lore, as he explores some of these dreadful places and the history that haunts them.   Mahnke takes us to Colorado and the palatial Stanley Hotel, where wealthy guests enjoyed views of the Rocky Mountains at the turn of the twentieth century—and where, decades later, a restless author would awaken from a nightmare, inspired to write one of the most revered horror novels of all time. Mahnke also crosses land and sea to visit frightful sites—from New Orleans to Richmond, Virginia, to the brooding, ancient castles of England—each with its own echoes of dark deeds, horrible tragedies, and shocking evil still resounding.   Filled with evocative illustrations, this eerie tour of lurid landmarks and doomed destinations is just the ticket to take armchair travelers with a taste for the macabre to places they never thought they'd visit in their wildest, scariest dreams.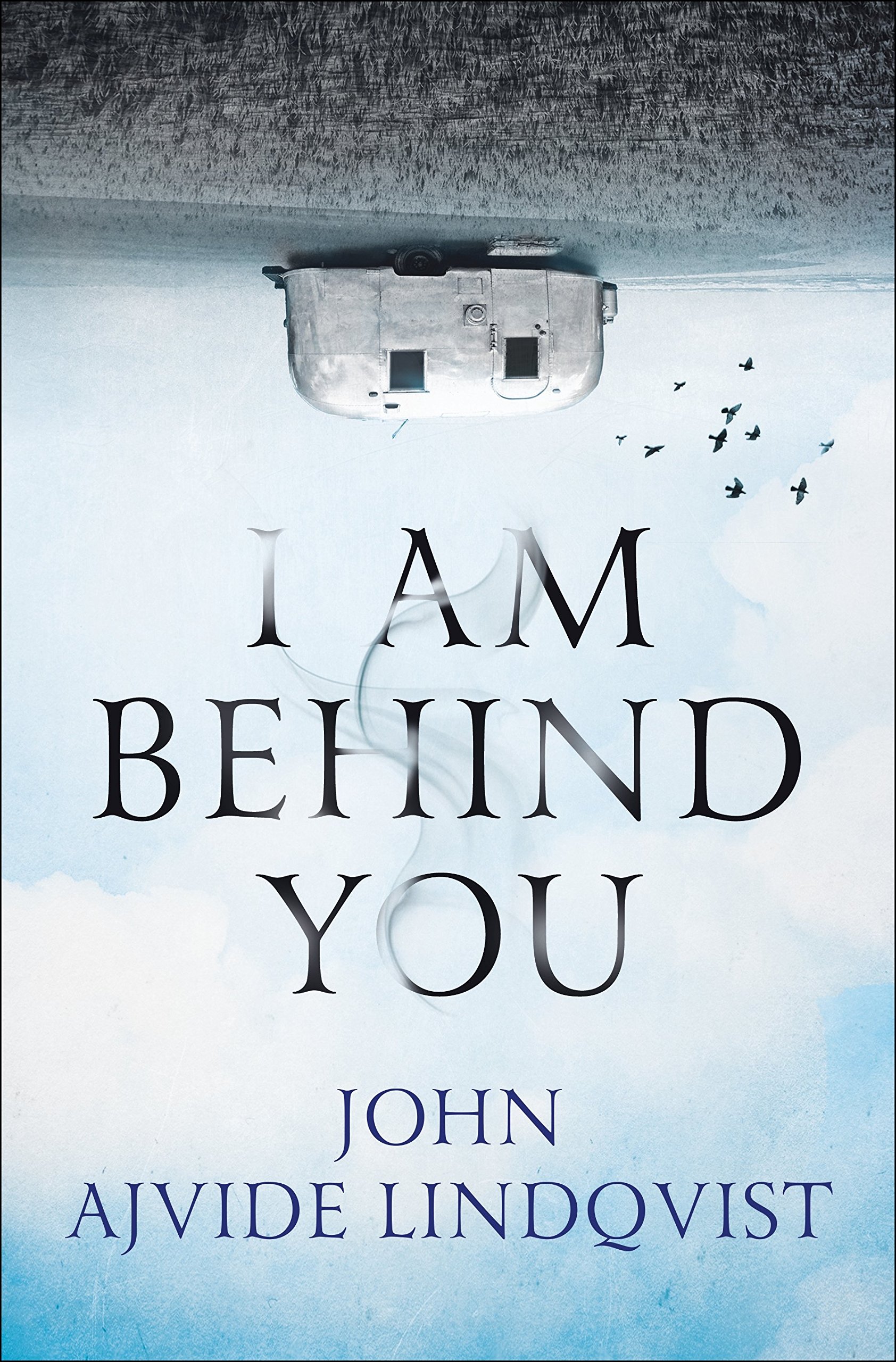 I Am Behind You by John Ajvide Lindqvist
Type: Standalone novelPublisher: St. Martin's PressRelease date: October 16th
A compelling, eerie new novel from the internationally bestselling author of Let the Right One In.

"At the top of his game, Lindqvist gives Stephen King and John Saul at their best a run for the money." —Library Journal (starred) 

"Dubbed the Stephen King of Sweden, Lindqvist lives up to the billing." —New York Post

Four families wake up one morning in their trailer on an ordinary campsite. However, during the night something strange has happened. Everything outside the camping grounds has disappeared, and the world has been transformed into an endless expanse of grass. The sky is blue, but there is no sign of the sun; there are no trees, no flowers, no birds. And every radio plays nothing but the songs of sixties pop icon Peter Himmelstrand.

As the holiday-makers try to come to terms with what has happened, they are forced to confront their deepest fears and secret desires. Past events that each of them has tried to bury rise to the surface and take on terrifying physical forms. Can any of them find a way back to reality?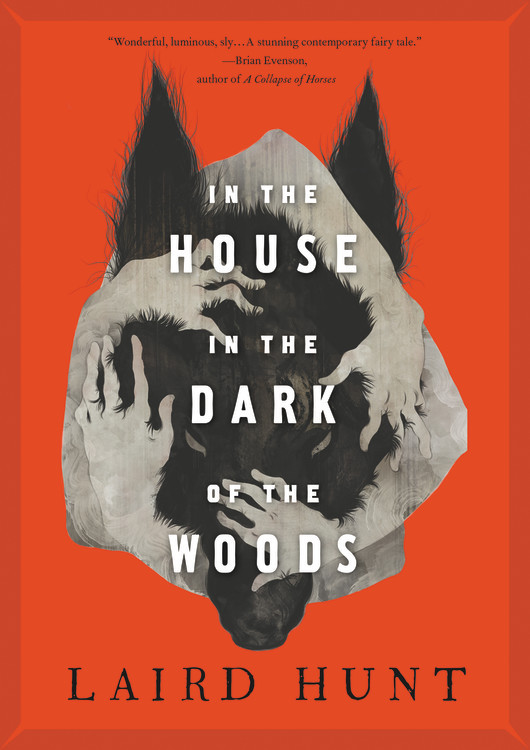 In the House in the Dark of the Woods by Laird Hunt
Type: StandalonePublisher: Little, Brown and CompanyRelease date: October 16th
The eerie, disturbing story of one of our perennial fascinations–witchcraft in colonial America–wrapped up in a lyrical novel of psychological suspense.

"Once upon a time there was and there wasn't a woman who went to the woods."

In this horror story set in colonial New England, a law-abiding Puritan woman goes missing. Or perhaps she has fled or abandoned her family. Or perhaps she's been kidnapped, and set loose to wander in the dense woods of the north. Alone and possibly lost, she meets another woman in the forest. Then everything changes.

On a journey that will take her through dark woods full of almost-human wolves, through a deep well wet with the screams of men, and on a living ship made of human bones, our heroine may find that the evil she flees has been inside her all along. In the House in the Dark of the Woodsis a novel of psychological horror and suspense told in Laird Hunt's characteristically lyrical prose style. It is the story of a bewitching, a betrayal, a master huntress and her quarry. It is a story of anger, of evil, of hatred and of redemption. It is the story of a haunting, a story that makes up the bedrock of American mythology, but told in a vivid way you will never forget.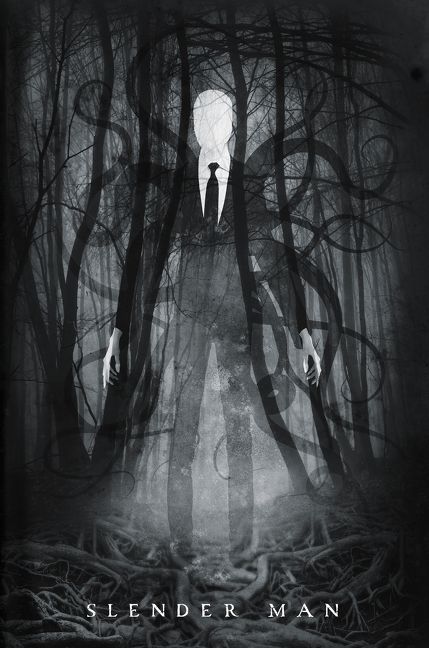 Slender Man by Anonymous
Type: Epistolary novelPublisher: Harper VoyagerRelease date: October 23rd
One man's search for the truth about one of the most intriguing urban legends ever—the modern bogeyman, Slender Man—leads him down a dark, dangerous path in this creepy supernatural fantasy that will make you question where the line between dark myth and terrifying reality begins.

Lauren Bailey has disappeared. As friends at her exclusive school speculate on what happened and the police search for answers, Matt Barker dreams of trees and a black sky . . . and something drawing closer.

Through fragments of journals, news stories, and online conversations, a figure begins to emerge—a tall, slender figure—and all divisions between fiction and delusion, between nightmare and reality, begin to fall.

Chilling, eerie, and addictively readable, Slender Man is a unique spine-tingling story and a brilliant and frightening look at one of the most fascinating—and diabolical—mythical figures in modern times.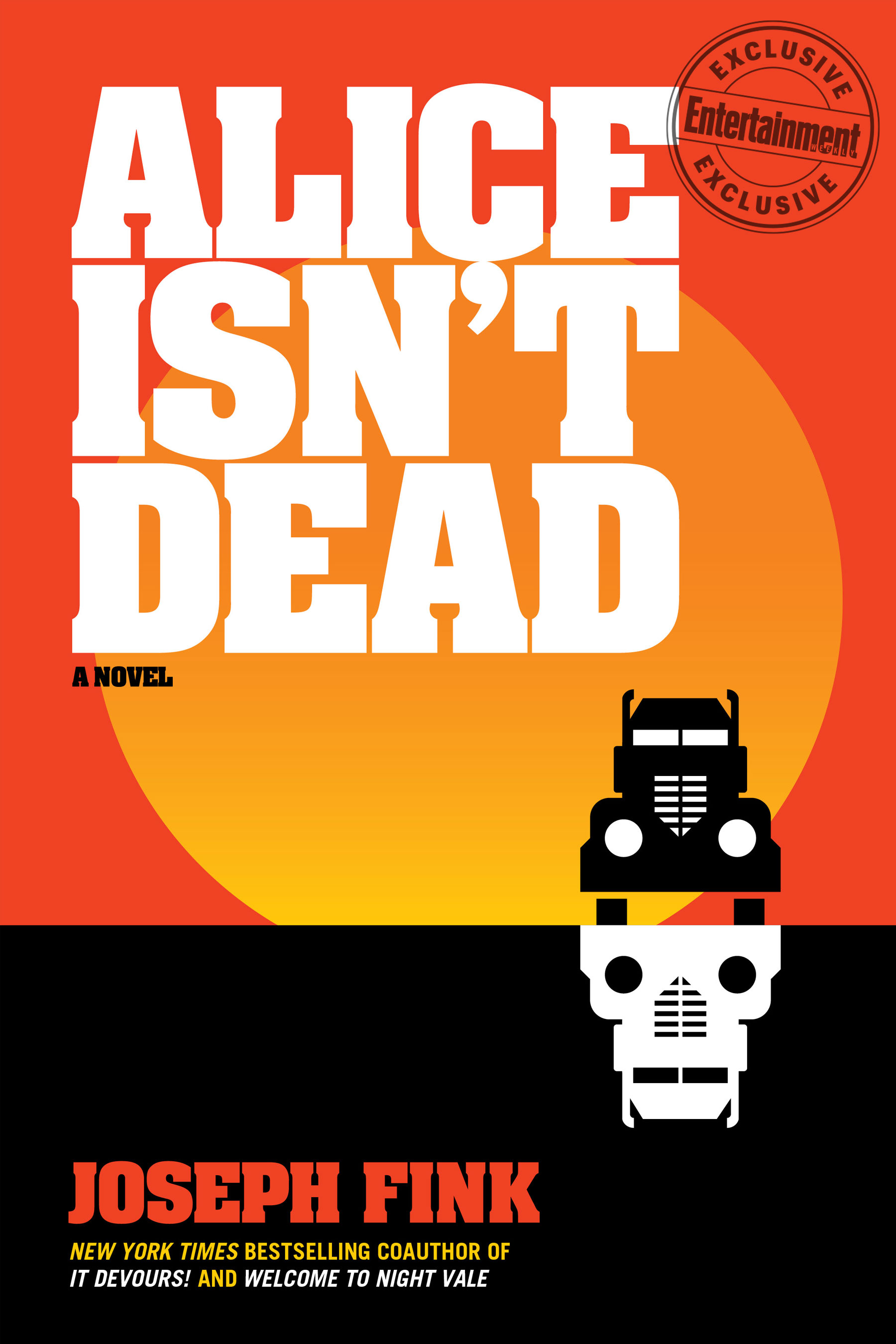 Alice Isn't Dead by Joseph Fink
Type: StandalonePublisher: Harper PerennialRelease date: October 30th
From the New York Times bestselling co-author of It Devours! and Welcome to Night Vale comes a fast-paced thriller about a truck driver searching across America for the wife she had long assumed to be dead.

"This isn't a story. It's a road trip."

Keisha Taylor lived a quiet life with her wife, Alice, until the day that Alice disappeared. After months of searching, presuming she was dead, Keisha held a funeral, mourned, and gradually tried to get on with her life. But that was before Keisha started to see her wife, again and again, in the background of news reports from all over America. Alice isn't dead, and she is showing up at every major tragedy and accident in the country.

Following a line of clues, Keisha takes a job with a trucking company, Bay and Creek Transportation, and begins searching for Alice. She eventually stumbles on an otherworldly conflict being waged in the quiet corners of our nation's highway system—uncovering a conspiracy that goes way beyond one missing woman.
What horror books are you most looking forward to checking out? Let us know in the comments below or in our Den of Geek Book Club on Goodreads…
Further reading: Best New Science Fiction Books
Further reading: Best New Fantasy Books
Further reading: Best New Young Adult Fiction
Kayti Burt is a staff editor covering books, TV, movies, and fan culture at Den of Geek. Read more of her work here or follow her on Twitter @kaytiburt.
Read and download the Den of Geek NYCC 2018 Special Edition Magazine right here!