News
An Introduction to The Dresden Files For New Readers
Interested in delving into the world of Harry Dresden, professional wizard? Here's what you need to know...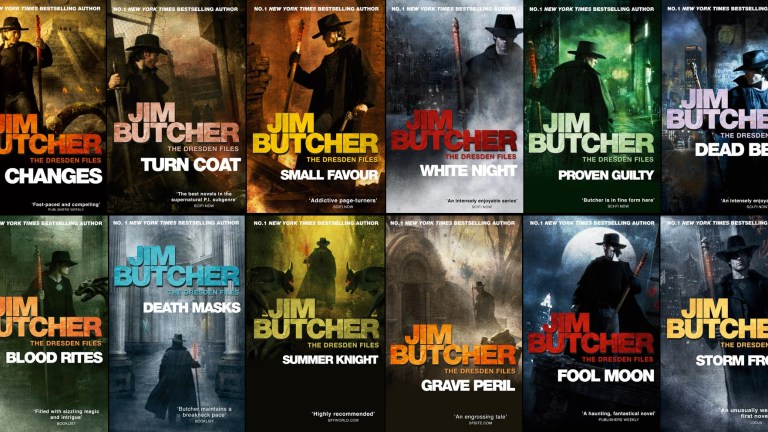 Brief Cases is our current Den of Geek Book Club pick! Head over to Goodreads to chat about Brief Cases and everything Dresden Files…
Have a problem only a wizard can solve? Hire Harry Dresden—Chicago's only professional wizard—or, at least, check out why this spell-caster has rocked the NYTimes Bestseller lists for fifteen novels and counting.
With fifteen novels and a host of short stories, several collected in the just-released (and recently reviewed Brief Cases), The Dresden Files may seem like a tough case to crack. It's intimidating to jump into a series that's already so well established, but, for your summer reading list, grabbing a series with this many entries may be just what the beach requires. So whether you're hanging out on the shores of Lake Michigan in Harry's home turf or catching rays near the kiddie-pool in your backyard, here's what you need to know.
Magic noir
The Dresden Files blends two fiction genres: the hard-boiled private eye drama and urban fantasy. Dresden's certainly not alone in the urban fantasy detective game, but he's one of the longest-running and best-known protagonists to rise to the top of that genre. In fact, Butcher for a long time resisted the "genre writing drone" style; he admitted in an interview with SF Site back in 2004 that his attempts to follow his writing teacher's advice—"just to prove to her how awful it would be"—turned into Storm Front, the first book in the series.
Which just goes to prove: if the genre ain't broke, don't fix it.
Harry Dresden lists himself in the Chicago phonebook as a "consulting wizard," which means his clients come in two flavors: smart or desperate. The world in which Harry operates still largely denies the existence of magic, but despite that denial, it's full to the brim of magical organizations. At the beginning of the series, Harry is really just another independent operator, a down-on-his luck magical investigator who tends to get consulted and blamed by the local police in equal measure.
A larger world
While Harry's independent attitude may have appeal, it can only carry through so many books. In fact, by the end of book three, Grave Peril, Harry's responsible for being the catalyst behind a war between two of the world's paranormal factions: the White Council (the governing group of wizards of whom Harry is a member) and the Red Court of Vampires. Some of this is personal: one of the Red Court vampires captured and half-converted his girlfriend. Some of it is that Harry's like a terrier—he can't let go of a job, no matter who's bribing, begging, or threatening him to get out.
As Harry gets further embroiled in paranormal politics, readers get a broader view of how the magical world works. There are four types of vampires, at least three types of werewolves, hosts of fae, ghosts, and demons—not to mention Bigfoot. And all of them have history, which means the deeper into the series a reader gets, the more of the world there is to see and explore.
While the books are grounded in Chicago, complete with an organized crime boss so thoroughly intimidating and well prepared that he's signed the magical community's accords and operates as nobility among the paranormals, a lot of action deals with or takes place in the Nevernever. This is the spirit world, which overlaps but isn't at all the same shape as the mortal realm—it's a lot bigger. Governed where it intersects the mortal world by the Winter and Summer Courts of faerie, the Nevernever is a dangerous and scary place (but then… Chicago can be, too).
A growing protagonist
It's also not just the world that gets bigger. Harry's character, a consistently down on his luck, hardboiled PI for most of the early books in the series, has plenty of family issues to work through. His own father died when he was very young, so when, in Changes, he finds out he's a father, the stakes of the series become incredibly personal. It's not just about saving the world anymore; it's about saving his own child.
Butcher knew he'd be running a risk making such a huge change to Harry's life. He wrote in an author's note in Brief Cases, making a big change "is something that is really, really contraindicated when you're writing a long-running series. You don't go majorly changing your main character without facing a loss of audience."
But a big change like that is also what keeps the main character from becoming stale, from simply having the same adventures over and over. In addition to his hardboiled career, Harry has also been a teacher, a Warden of the White Council (think magical law enforcement), and dead. Kind of.
Dabbling vs. commitment
Not sure if you're ready to commit to the long haul of a fifteen book (and growing) series? Lucky for you, Butcher has two short story collections set in the world: the aforementioned Brief Cases and 2010's Side Jobs. Both have spoilers for the series, but they also give a fantastic, small-bite glimpse of the world.
But, once you start small, it's likely you'll get entangled in the plots of wizards and vampires. And while fifteen books may seem like a lot, with more still to come, Butcher keeps up a steady writing page, with almost one book (collections included) published in the series every year since he started it in 2000. (You're also in luck because we're currently giving away a complete set of Dresden Files books!)
So grab Storm Front and delve into The Dresden Files. Or, you know, if you're desperate, find a Chicago phonebook and look up Wizard for Hire.