News
American Flagg TV Series in the Works
Howard Chaykin's cyberpunk Colbert Report, American Flagg, might come to small screens soon.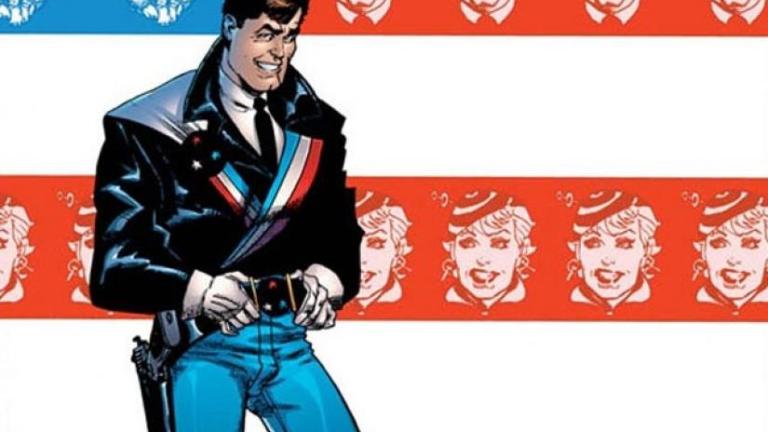 Comics legend Howard Chaykin, who first came to fame drawing war comics for DC and Marvel Comics' first Star Warsbook before embarking on a legendary career, just had maybe his best-known work picked up for television distribution. American Flaggwas optioned for TV by EuropaCorp Distribution, according to a report in Deadline. 
American Flaggis the terrifyingly prescient '80s comic about an ecologically devastated Earth abandoned by functioning governments and ruled by corporations, reality television stars, and a resurgent fascist movement. It was once considered satire, but can now be found in Comixology's "Prophecy" section.
The comic stars Reuben Flagg, a square-jawed ex-movie star made obselete by CGI who decides to work as a cop for the giant corporation that runs what's left of the United States. The world is dominated by Plex, Flagg's employer, which outlaws all television stations but its own and encourages mindless, absurdly violent bloodsport as the national pastime. The first arc follows Flagg in his early days on the job as he discovers corrupt police and a television station subliminally encouraging gang violence.
Chaykin will reportedly serve as Executive Producer on the show alongside EuropaCorp's Luc Besson, director of that really colorful sensory overload space movie, and that other really colorful sensory overload space movie you know the one with Chris Tucker, and that really colorful parkour movie. Industry insiders expect American Flaggto be subtle and subdued, a stinging but understated critique of modern consumerism.
For more on American Flaggstick with Den of Geek!