News
Amazon to Adapt Sci-Fi Novel Consider Phlebas for TV
Consider Phlebas, the acclaimed sci-fi novel series by Iain M. Banks, is getting a prestigious TV adaptation for Amazon.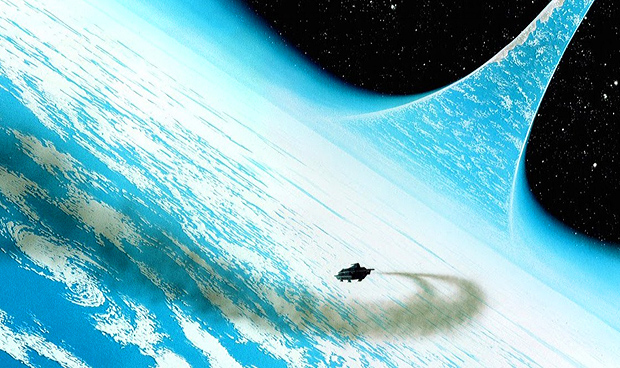 Amazon's interminable project backlog of genre-driven peak television offerings just added a major mythology. Amazon Video, the streaming service of the online retail leviathan, has acquired the global rights to a TV adaptation of Consider Phlebas, which was the canonical starting point of author Iain M. Banks's celebrated books, collectively known as the "Culture" series.
Consider Phlebas, a sprawling 10-book, epoch-spanning, space-set sci-fi novel series, will serve as the launching point for Amazon's Culture series TV endeavor. The project has been put into development, arriving as a production of Plan B Entertainment, with the estate of author Iain M. Banks serving as executive producer. The creative stewardship of the project has been placed in the hands of Dennis Kelly, the screenwriter behind the 2013-2014 cult favorite U.K. sci-fi series, Utopia, as well as the 2014 Jude Law-starring thriller film, Black Sea. He also worked on a rewrite of the script to the upcoming World War Z 2.
As Kelly expresses in a statement:
"Iain Banks has long been a hero of mine, and his innate warmth, humor and humanism shines through these novels. Far from being the dystopian nightmares that we are used to, Banks creates a kind of flawed paradise, a society truly worth fighting for—rather than a warning from the future, his books are a beckoning."
The story of the 1987 novel, Consider Phlebas, centers on Horza, a shapeshifting mercenary who's immersed in an intergalactic conflagration of civilizations between the Culture – a technology-dependent A.I.-driven utopia that has become detached from its humanity – and the Idiran Empire – a spiritual, warlike, domination-driven society. Horza, working on behalf of the Idirans, is tasked with recovering a crucial missing A.I. component of the Culture, called "the Mind," which, wielding an immense power, has the potential to destroy the Culture completely. However, the task itself is deeply immersed in the fog of war, raising ambiguities about the means and methods of each side. 
As Sharon Tal Yguado, recently-appointed Head of Scripted Series at Amazon Studios, comments on the acquisition:
"The story of the Culture is so rich and captivating that for years Hollywood has been trying to bring this utopian society to life on the screen. We are honored that we have been chosen, along with Dennis Kelly and Plan B Entertainment, to make Consider Phlebas into a television series we think will be loved by fans for years to come."
The Culture series of Iain M. Banks (who passed away in 2013 from gallbladder cancer,) spans 10 volumes, starting with 1987's Consider Phlebas, ending with 2012's The Hydrogen Sonata – a release that Banks was well aware would be his final Culture book as his condition worsened. Indeed, the influence of the Culture series is deceptively far-reaching, and this television deal even garnered special acknowledgement from Amazon's $120 billion overlord himself, Jeff Bezos, in a praise-bestowing tweet.
Consider Phlebas will join a lineup of prominent developing television projects that includes, amongst many others, a highly-anticipated The Lord of the Rings prequel series, which reportedly set Amazon back some $250 million.