News
Alias Grace Trailer and Release Date for Netflix Margaret Atwood Series
Netflix drops the trailer for miniseries Alias Grace, adapting the novel by The Handmaid's Tale's Margaret Atwood.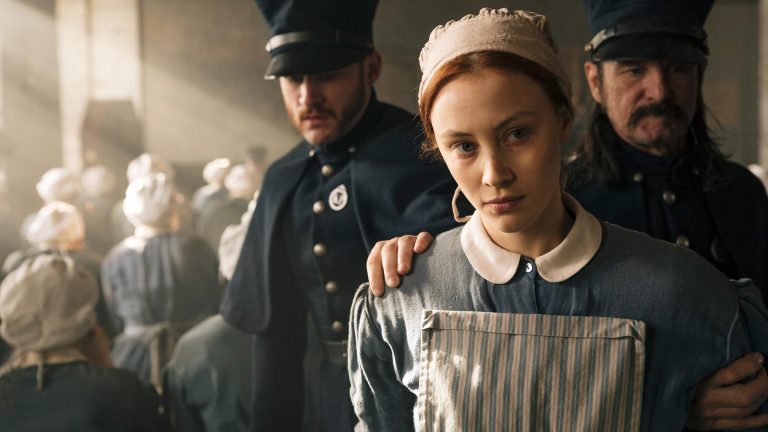 Many things have been written about Grace Marks. Some called her a human female demon, others an innocent victim forced against her will and in danger for her own life, but the 19th century murders she is accused of has kept the public guessing forever.  The 1843 double murder was one of Upper Canada's most notorious crimes. Netflix will explore the possibilities in Alias Grace, a six-hour miniseries based on Margaret Atwood's book on convicted 19th century murderer Grace Marks, to the streaming movie service.
With Atwood's work white-hot, coming off the acclaim generated by Hulu's television adaptation of The Handmaid's Tale, Netflix is clearly looking to replicate that success.
Alias Grace Trailer
Alias Grace has released a full trailer, showing the pathological journey that the series will take with Sarah Gadon's convicted murderess Grace Marks. While the former house servant is depicted after having spent 15 years incarcerated for killing her employers after a purported romantic spat, she claims to suffer amnesia regarding the events and psychologist Dr. Simon Jordan (Edward Holcroft) – perhaps, motivated amorously – suspects that she may be innocent.
However, innocent or not, she's clearly more cunning and manipulative than a woman of her caste in the mid-1800s would have a right to be and the truth may prove to be something that Grace or Simon won't want to know. As the trailer depicts, Grace's memory of the events leading to the murders are reconstructed through hypnosis, revealing an abused and humiliated existence at the hands of her employer Thomas Kinnear and housekeeper Nancy Montgomery (Anna Paquin), both of whom end up brutally murdered. Yet, the slow-burning answers regarding those crimes are psychologically circuitous, showcasing its share of dramatic intrigue.
Netflix kicked off its Alias Grace promotion with a 45-second teaser trailer that introduces a poor, young Irish immigrant who is a servant to a wealthy family in upper Canada. The trailer lets the convicted murder ponder whether she is a not-so-innocent victim "I am cunning and devious. How can I be all of these different things at once? I'd rather be a murderess than a murderer — if those are the only choices."
Alias Grace Plot
According to the official synopsis:
"The story of Alias Grace follows Grace Marks, a poor, young Irish immigrant and domestic servant in Upper Canada who, along with stable hand James McDermott, was convicted of the brutal murders of their employer, Thomas Kinnear, and his housekeeper, Nancy Montgomery, in 1843. James was hanged while Grace was sentenced to life imprisonment. Grace became one of the most enigmatic and notorious women of 1840s Canada for her supposed role in the sensational double murder, and was eventually exonerated after 30 years in jail. Her conviction was controversial, and sparked much debate about whether Grace was actually involved in the murder, or merely an unwitting accessory."
"Grace Marks, as captured by Margaret Atwood, is the most complex, riveting character I have ever read," Noreen Halpern, President of Halfire Entertainment, said in a statement. "I'm thrilled that Mary Harron has taken the project on. I know that her ability to create suspense, tension, and delve into the dark, unknowable aspects of her characters will bring this piece alive. I can't wait for us to bring the many versions of Grace's gripping story, and the questions they raise, to television audiences.
Alias Grace is written and produced by Sarah Polley (Looking for Alaska, Take This Waltz, Away from Her) and directed by Mary Harron (American Psycho, I Shot Andy Warhol).  The book and the adaptation both add the fictional Dr. Simon Jordan, a researcher who becomes obsessed with Grace and falls in love with her.
"Sarah Polley wrote a stunning six-hour script, based on Margaret Atwood's award-winning novel, and we are thrilled that CBC and Netflix have joined forces to co-commission this miniseries."
Alias Grace Cast
Sarah Gadon, a Canadian actress, will play Irish immigrant Grace Marks, a maid who was convicted with stable hand James McDermott, of a double murder in 1843. Gadon most recently co-starred as a Texan librarian opposite James Franco in Hulu's Stephen King limited series 11.22.63. She was also featured in David Cronenberg's films A Dangerous Method, Cosmopolis, and Maps to the Stars. 
Anna Paquin will play the amnesiac victim Nancy Montgomery, a housekeeper who was the secret lover of her boss Thomas Kinnear. Paquin who made her Academy Award winning breakthrough in 1994's The Piano, played Sookie Stackhouse on HBO's True Blood, and was featured in the X-Men film series.
Kerr Logan (Strike, Game of Thrones) will play James McDermott.
Zachary Levi (Thor: The Dark World, Chuck) will play Jeremiah Pontelli.
Edward Holcroft (Kingsman: The Secret Service, Wolf Hall) will play Dr. Simon Jordan.
Alias Grace Release Date
Netflix will release Alias Grace globally on Friday, November 3. The series will first broadcast on Canada's CBC.