News
38 Years Of Golgo 13
Dredd's a mere stripling compared to one of Japan's longest-running comic characters, Golgo 13, coming here soon in a definitive back-catalogue...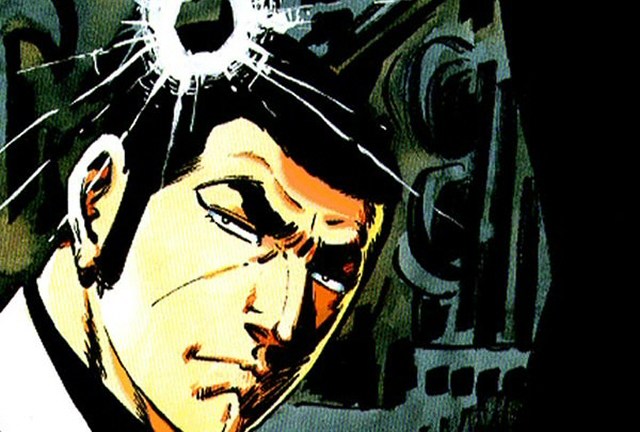 For more than three decades, one of Japan's best-known fictional characters has been a hitman with unfailing accuracy who takes a cool million for a job. Duke Togo, a.k.a. Golgo 13, has been employed by business leaders, presidents, criminals and religious cabals, and even the rumor that he has been contracted is sometimes enough for his target to do himself in.
Golgo 13's origins are deliberately vague and obscure. People of wealth and means somehow understand how to get a message to him and arrange a meeting. In structure, these can be somewhat formulaic adventures, despite their flexible length. Golgo 13 will show up, listen to the appeal for his services, allowing his contact to become a narrator and take the opportunity to recap the situation for readers. Through it all, Golgo 13 remains silent, with little thought balloons containing strings of points ("…….") in varying lengths to indicate the time a character spends in quiet consideration.
The little trick with the points of ellipsis is a hallmark of Takao Saito's studio, which creates the series. Saito had some measure of fame among Japanese comic readers in the 1960s for a short run of adaptations of James Bond novels. He'd created a few other tough guy comics in that period before creating Golgo 13, which was a runaway success. There have been a few live action adaptations and a pair of animated treatments, but the principal focus for the studio has always been the comic itself.
The comic is genuinely unlike any other long-running series in the medium. It is structured almost like a TV drama from the 1960s, like The Fugitive or Route 66. Each episode sees Golgo 13 contracted by a new group of protagonists. It's more than just the situation and the conflict that belongs to the "guest stars," rather, the new people we meet are the stars of each story. Golgo 13 is the instrument contracted to handle their problem and the stories are never about him.
Interestingly, he never changes at all, even though the stories are set in the real world, with various politicians and media figures occasionally appearing in "unbilled cameos" as the story's protagonists. Golgo 13's services have been required at political hotpoints since the late 1960s, but he himself remains consistently in his mid-30s, an unchanging element – a "blunt instrument," if you like – used to handle desperate situations.
Golgo 13 first appeared in the January, 1969 issue of Japan's Big Comic Monthly, and a new episode, each 30-40 pages, has appeared in every issue since. In addition, he also appears in occasional special stories, released directly to the bookstore trade. The 150th Golgo 13 book, a series comprising both reprints of the monthly series and new adventures, will be released in January 2008. 150 volumes: now that's a number which would put a strain on anybody's bookshelf.
Until recently, very little of Golgo 13 had been reprinted in English. There were a pair of collections from an outfit called Lead Publishing in the mid-1980s, and a short run of US-sized comics in the 1990s called The Professional: Golgo 13, but these quickly fizzled, definitely cases of the wrong product being released at the wrong time for the market.
Two years ago, Viz Comics began a new series of English-language Golgo 13 volumes. The series, in their Viz Signature line, is planned to run for 13 volumes – the eleventh, The Wrong Man was released in November – and it will compile 26 of the stories in a "greatest hits" format. So far, each of the volumes teams one of the longer stories with a thirty-page episode. There is very little background information online in English, especially the sort of minutiae like full story checklists with original publication dates and page lengths that enthusiasts enjoy, but apparently there have been some extremely long serials which continued for many months in Big Comic. Those are being passed over, so that each 200-page volume can include complete adventures.
Viz has not announced whether they will continue with Golgo 13 after this series of editions wraps up in 2008. Continuing might mean some groaning bookshelves and wallets since there is still so much material to see print, but with stories so engaging and fun, it would be a shame to wrap things up so soon.
***
Grant GoggAns is a single father in the suburbs of Atlanta, where he spends as much energy as possible blogging about comics, music, restaurants and minor league sports at hipsterdad.livejournal.com.
Head over to Forbidden Planet to start shopping too…