Features
10 Genre-Fiction Novels You Might Have Missed
There's still time to squeeze in some summer reading, and we've got 10 works of genre fiction that fit the bill.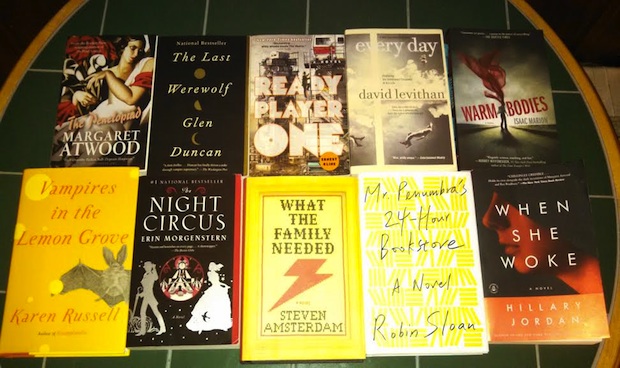 The summer months of 2014 are winding down. The weather is transitioning from blissfully hot to blistering, the mid-August humidity thick as fog. What can be done? Soak up the last gasp of summer before it slips away from us. Why not get outside while you still can and dive into a good book?
Here are ten fast-paced genre reads, all published in the last decade, that you may have missed and will keep you hooked. Dive in.
 1. Warm Bodies 
by Isaac Marion
In 2011, with Walking Dead becoming one of the most watched shows on television, zombies had replaced vampires as the go-to horror staple in popular culture. That year, the CDC even uploaded a "Zombie Preparedness" section to its official website. You've probably heard of the 2013 film adaptation of Warm Bodies starring Nicholas Hoult and Teresa Palmer, which pulled in nearly $117 million worldwide. The romance, wherein a zombie falls in love with a human and gradually wills himself back to life, won over both audiences and critics alike. However, Marion's 2010 young adult novel may have gotten lost in the zombie craze and deserves to be lauded on its own.
In creating mpathetic and self-loathing protagonist R, Marion revolutionized the bumbling, thoughtless zombie archetype. R says at one point, "I [steal] to replace what I lack. [They disappear], and I stay […] There is a chasm between me and the world […] A gap so wide my feelings can't cross it. By the time my screams reach the other side, they have dwindled into groans." R is not only revolutionary for zombie lore—Marion also chooses to depict the brain which zombies eat as a way for them to view their prey's memories—but he acts as a magnifying glass, showing the reader up close how the post-apocalyptic world went to hell.
2. Every Day 
by David Levithan
The premise of Levithan's 2012 young adult fantasy Every Day is tough to swallow: Each morning, a sixteen-year-old genderless being named A wakes up as a different person in the Baltimore area, borrowing the host's memories and control of the body—which could be either male or female—for twenty-four hours. Luckily, A is mostly benevolent, following a personal set of rules that limits intrusion. One day, A inhabits the manipulative Justin who mistreats his lovely, sensitive girlfriend Rhiannon; A falls in love.
I was hesitant at first, but Levithan finds a way to not only make the supernatural premise and action plausible, but provides poignant insight into human nature, romance, religion, mental illness, body image, and even death. Though A is neither boy nor girl, and has no physical self, A loves Rhiannon regardless of gender and has a greater sense of "self" than most YA protagonists. As A scrambles to spend time with Rhiannon, despite the body A inahbits, trouble abounds and makes us wonder: Is A victim or predator? 
 3. Vampires in the Lemon Grove 
by Karen Russell
In 2012, Karen Russell was a finalist for the Pulitzer Prize for Fiction for her novel Swamplandia! For the first time since 1977, no award was given. Russell was up against National Book Award winner and Guggenheim Fellow Denis Johnson and the posthumously published final novel of MacArthur Fellow David Foster Wallace. Even more impressive? Swamplandia! was Russell's first novel and she was only thirty when the results were announced. Had she won, she would've dethroned Jhumpa Lahiri as the youngest ever Pulitzer Prize for Fiction winner.
Russell is unabashedly original and thrusts readers into macabre worlds filled with idiosyncratic characters that we can't help but care about, and frankly, can't forget. In Vampires in the Lemon Grove, a supernatural short story collection, Russell tackles: a teenager who realizes the universe is trying to communicate with him via seagulls, a group of kidnapped girls held in a factory who are drugged, turned into human silkworms, and forced to spin threads for their captors, and a massage therapist discovers she can heal a wounded veteran by rearranging his expansive back tattoo, among others. Most people don't understand Russell until they read her work…then they can't get enough.
 4. What The Family Needed 
by Steven Amsterdam
This premise has been done before with Pixar's The Incredibles and ABC's failed comedy-drama No Ordinary Family: A dysfunctional family, hanging onto sanity by the skin of their teeth, develops superpowers. Will they sink or swim? Steven Amsterdam's What The Family Needed is literature's attempt to answer that question. At some point, every kid wondered what it would be like to fly around like Superman or launch into hyper-speed like The Flash. As kids, we didn't necessarily examine the consequences of these talents, only the frills.
Amsterdam's novel peruses the crises that come with obtaining superpowers. But there's one catch: the superpowers—such as flight, invisibility, and Olympian athleticism—are ironically only contracted after familial discord. The reader will notice early on that What The Family Needed is devoid of villains. That's because each character's superpower represents a deep personal panic or hunger—they are, in fact, their own villains. Can they confront their fears, accept their fates and each other, and remember how to love? What The Family Needed is a fantastic examination of the human experience. 
 5. Ready Player One 
by Ernest Cline
I am a former college and semi-professional athlete, with almost no video game knowledge, and the first time I read Cline's 2011 novel, I burned through it as if there were a danger of it evaporating in my hands. Cline manages to make geek chic, somehow translating video game jargon into language that gaming neophytes can understand and even become enthralled by.
We enter in the year 2045, with Earth's natural resources all but withered up. Cline offers a harrowing portrayal of how it all went wrong and, unfortunately for us, it doesn't seem too far-fetched. Akin to the humans in Wall-E, humans in Ready Player One don't do a great deal of real-world living. Instead, they tune into OASIS, a massively multiplayer online virtual reality world, to escape the reality of their rapidly fading planet. OASIS' billionaire creator James Halliday died five years earlier, with a catch: whoever could find an Easter egg that he left embedded in the game would be entitled to his entire fortune and would gain control of OASIS, essentially becoming the most powerful person on the planet.
After five years of searching for clues, no one has been able to find anything. That is, until our protagonist, eighteen-year-old Oklahoma City orphan Wade Watts, utilizes his obsessive gaming and geek knowledge to get ahead. Before he knows it, he's neck deep in a death-defying race for an insurmountable inheritance that could turn the world's fortune around. Ready Player One is a white-hot adventure that reads as a heartfelt love letter to 1980s pop culture.
 6. The Night Circus 
by Erin Morgenstern
The Night Circus isn't on this list because it's a brilliant romance. The romance between main characters Marco and Celia—two magician's apprentices pitted against each other in competition aboard a mystical travelling circus—is too clichéd for comfort. However, there are few things more enjoyable than escaping into the world of a novel on a scalding summer day. The Night Circus is just that: an escape into another world, and even better, onto a travelling circus.
In the vein of Ray Bradbury's Something Wicked This Way Comes, Susanna Clarke's Jonathan Strange and Mr Norrell, and most Neil Gaiman novels, we are thrust into a world where the make-believe sparks to life. Morgenstern paints the fantastical world of her circus the way Monet would a landscape. She is so adept at scene setting that a reader can practically touch the ever-burning bonfire of Le Cirque des Rêves ("The Circus of Dreams") and hear the roar of the entranced crowd. Though it's unfortunate that a star-crossed romance drives the entire plot when Morgenstern created such a spellbinding universe, it's the type of world that sticks in your head long after you finish and reveals more with each re-read.
 7. The Last Werewolf 
by Glen Duncan
It's a tragedy that more readers aren't aware of Glen Duncan, but his writing isn't for the faint of heart. He's the thinking man's Chuck Palahniuk—idiosyncratic, explicit, twisted, capable of dark comedy flooded with irony, and gifted with serious literary chops. Duncan's 2003 novel I Lucifer, where Satan is given a chance at redemption if he can behave for thirty days in a human body (he refuses to) is brilliant and laugh-out-loud funny at times. Duncan published seven novels from 1997-2009, that were in Duncan's words, "overtly literary [and] had been read by virtually no one." His agent told him he had no chance of finding a publisher for the eighth. So he tried his hand at genre fiction, specifically a book about a two-hundred-year-old werewolf, the last of his kind, being hunted. 
The Last Werewolf's protagonist Jake Marlowe is a Macallan-swilling, Camel-smoking, Kant-reading, prostitute-canoodling badass who has seen it all in his two centuries. But what could be so enticing about werewolves, beasts that traditionally are only affected by the curse once a month? Duncan alters the werewolf mythology, making the curse an every-day, ticking time bomb whose pain and influence gradually increases—the "wulf" expanding within Jake like a predator invading its prey—as the full moon nears. Though The Last Werewolf is a trilogy (the second and third are published), stick to reading just The Last Werewolf; it reads like a Scotch-soaked Western with a protagonist so compelling, you'll shiver every time you hear a howl.
 8. Mr. Penumbra's 24-Hour Bookstore 
by Robin Sloan
Mr. Penumbra's 24-Hour Bookstore is a 2012 novel about laid-off Silicon Valley techie Clay Jannon, who subsequently takes a night shift at the strangely alluring Mr. Penumbra's 24-Hour Bookstore. After a few shifts, Clay notices that the customers don't seem to be buying anything, and starts to starts to pay closer attention to their behavior. He suspects that the bookstore might be a front, and investigates the internal affairs of the wacky, vaguely Dumbledore-esque Mr. Penumbra.
You wouldn't suspect a dusty, beaten-down bookstore to be the axis on which an adventure story spins, but Sloan manages to pull it off in his debut novel, which—in some ways—acts as an ode to old world knowledge, and a dissent against overreliance on technology. The finale is disappointing, given the pace at which the action unfolds, but it's one heck of a ride. Oh, and the American (hardcover) version of the book glows in the dark.
 9. When She Woke 
by Hillary Jordan
In a future dystopian America, people no longer face lengthy imprisonments for their crimes. Instead, they face brief—but filmed and broadcasted—imprisonments in a Chrome ward, with one catch: their skin is genetically altered (in our protagonist Hannah's case, for sixteen years) to fit their crime. After serving their time, they are released back into the world with their altered skin. Hilary Jordan's 2011 novel is a modern reimagining of Nathaniel Hawthorne's The Scarlet Letter. Even the protagonist's name–Hannah Payne–echoes Hawthorne's Hester Prynne. Jordan's protagonist has committed murder and her skin has been turned red. We learn that Hannah had an abortion, but refuses to give up the name of the father, which adds time to her sentence as a Red.
If you remember The Scarlet Letter, you see where this is going. Nevertheless, Jordan makes the story frightening for a new generation. When She Woke is scary in its own right, but terrifying when we consider how easily Jordan's fiction could become reality.
 10. The Penelopiad 
by Margaret Atwood
Margaret Atwood is a living legend and was awarded the 2012 Los Angeles Times Book Prize "Innovator's Award" for her body of work. In 1985 she published the masterpiece of "speculative fiction" (as Atwood likes to call her work, in lieu of "science fiction") The Handmaid's Tale; she was awarded the 1987 Arthur C. Clarke Award as well as was named a Man Booker Prize Finalist for it. She won the Man Booker Prize in 2000 with her tour-de-force The Blind Assassin, which Time named as its best novel of the year and included in its All-Time 100 Novels list (best English-language novels published since 1923).
I find myself most drawn to Atwood's 2005 novella The Penelopiad though, a modern retelling of the myth of Penelope and Odysseus. Atwood has said that when she read Homer's The Odyssey, she was always intrigued more by Penelope and the twelve maids than the story itself—a story which, in the introduction of The Penelopiad, she says "doesn't hold water: there are too many inconsistencies." With The Penelopiad, Atwood gives voice to the underappreciated and overlooked Penelope, who was stricken with the legendarily beautiful Helen of Troy as a cousin, kept a kingdom in check while Odysseus travelled the world, raised a son on her own, and kept greedy suitors at bay. Thanks to the genius of Atwood, Penelope's side of the story is finally heard. It's a compelling and haunting read.    
Like us on Facebook and follow us on Twitter for all news updates related to the world of geek. And Google+, if that's your thing!